How many people does it take to inspire change?
ONE!
Whether you're a momma, daddy or millennial, I hope this "Shot of Inspiration" will inspire you to think about how you could be the one to make a difference.
As a high school student in Phoenix, Matthew Kaplan created The Be ONE Project, as in YOU CAN BE THE ONE TO CHANGE SOMEONE'S LIFE FOR THE BETTER, after he found out his brother Josh was being bullied via text messages and social media.
"It felt horrible," Josh explained. "I probably cried every day in the fourth and fifth grade."
Big brother Matt came to the rescue. He searched online for programs to help his brother, but nothing clicked. So he decided to create his own peer-to-peer anti-bullying program, The Be Open to New Experiences (ONE) Project.
He trains middle school students during a daylong program designed to open up their hearts and minds and to be kind.
I asked Matthew, "When you think of peer pressure, we think it's a bad word. You think it's a good word?"
He said, "I think it could be a positive thing. What if peer pressure could be used as inclusiveness instead of exclusiveness?"
The overall message: compassion, action and of course, "It's cool to be kind."
One of the teenagers who attended his session said, "This whole process really inspired me to think that every day, there are 100 opportunities to love another person and be loved."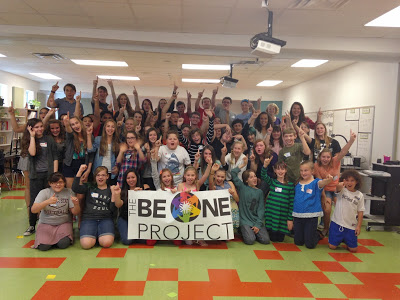 Matthew, who is now studying at Duke University, has inspired more than 150 Arizona teachers and high school students to be team leaders. Thousands of kids nationally have gone through his program.
I always tell kids you shouldn't care what people say about you if don't care about them.
When people make fun of others, they're worried about their insecurity, and as Ellen DeGeneres says, "Let your haters be your motivators."
I'm so proud of Matthew. You go!
For more about Matthew and his project, check out my Go Inspire Go blog and video:
Go Inspire Go 50/50 Hero: The Be ONE Project
Take action:
1. Support The Be ONE Project
2. Be the ONE to change your school culture. Invite Matthew Kaplan to come to your school
3. Learn more about what YOU can do!
::Engage::
* Send us inspiring things to feature.
* Twitter — twitter.com/toanlamtv
* Instagram — instagram.com/toanlamtv
* Facebook — facebook.com/toanlamtv
* Subscribe to my YouTube channel, youtube.com/toanlamtv
Onward,
Toan