Who: Dedicated to the victims of the Orlando shooting
What: Supporting Love #WeStandWithOrlando
Where: Orlando, Fla.
This week's video is all about supporting, sharing and celebrating love.
From Pride Month to Father's Day to every day, there's always a reason to celebrate love.
It's ironic I was celebrating love in Santa Barbara, Calif., last weekend as two friends tied the knot — congrats Ashley and Marco — when I heard the news out of Orlando.
I'm still numb from the stories about the gunman who opened fire at Pulse nightclub, killing 49 people and injuring 53 others.
Though I'm an optimistic person, always trying to find the goodness in everything, I struggled to understand how there could be a silver lining in such a dark tragedy. That's when I remembered some words of wisdom passed along by the late Mr. Rogers of the PBS show, "Mr. Rogers' Neighborhood," for some solace.
This week's video is dedicated to the victims and loved ones affected by the tragedy.
Ripples:
The Advocate reported that Equality Florida created a GoFundMe campaign to support the victims' families — in just four days, more than $4.7 million dollars was raised by more than 100,000 people!
I just checked the site and as of today, the tally is more than $6 million: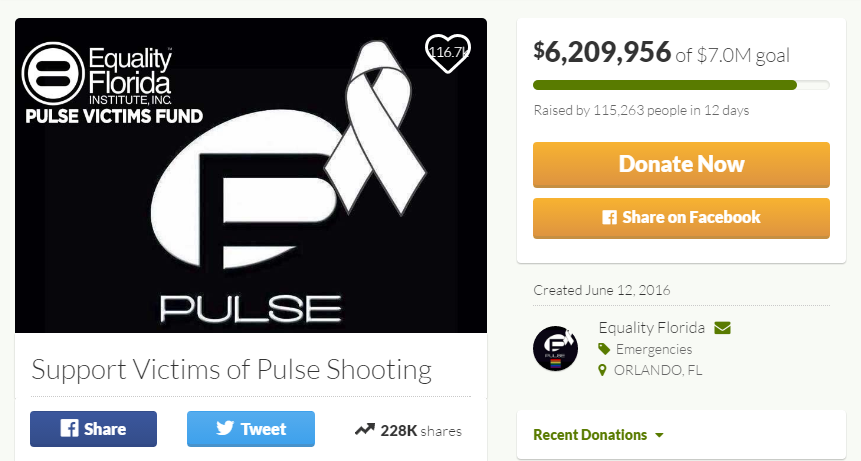 – The Orlando Sentinal reported blood banks are filled to capacity. Officials urged donors to come back at a later date.
– Disney and Comcast NBCUniversal donated $1 million and JetBlue Airways donated $100,000 to the OneOrlando fund, established by Orlando Mayor Buddy Dyer.
– JetBlue is also offering free plane tickets to family and domestic partners of the deceased.
I remember when I was a kid, it was taboo to talk about anything LGBT-related. It's inspiring to see all the public support and images of the scores of people who attended solidarity marches and candlelight vigils and prayer services all around the world. Change has been slow but steady…
"Trust thyself: every heart vibrates to that iron string." –Emerson

So moved by the candlelight vigil in Orlando. pic.twitter.com/Ng6J53P3Kg

— Equality House (@Equality_House) June 16, 2016
More images from tonight's candlelight vigil in Rabat, Morocco paying respects to victims of Orlando shooting pic.twitter.com/frWTSKgBII

— Samia Errazzouki (@S_Errazzouki) June 15, 2016
It's easy to feel numb and helpless in times like this. But the truth is, we all have more power than we think. When I say power, I mean your resources (you can donate to organizations that support the LGBT community or the aforementioned GoFundMe campaign), your time (you can volunteer) or your talents (be creative and help out in a way that is unique to you). Every bit helps.
I'd love to hear about what you or someone you know is doing in the wake of the Orlando shooting.
Please share in the comments section below.
Peace, love and prayers to all.
Toan
::Engage::
* Send us inspiring things to feature.
* Twitter – twitter.com/toanlamtv
* Instagram – instagram.com/toanlamtv
* Facebook – facebook.com/toanlamtv
* Subscribe to my YouTube channel, youtube.com/toanlamtv! New videos every Saturday