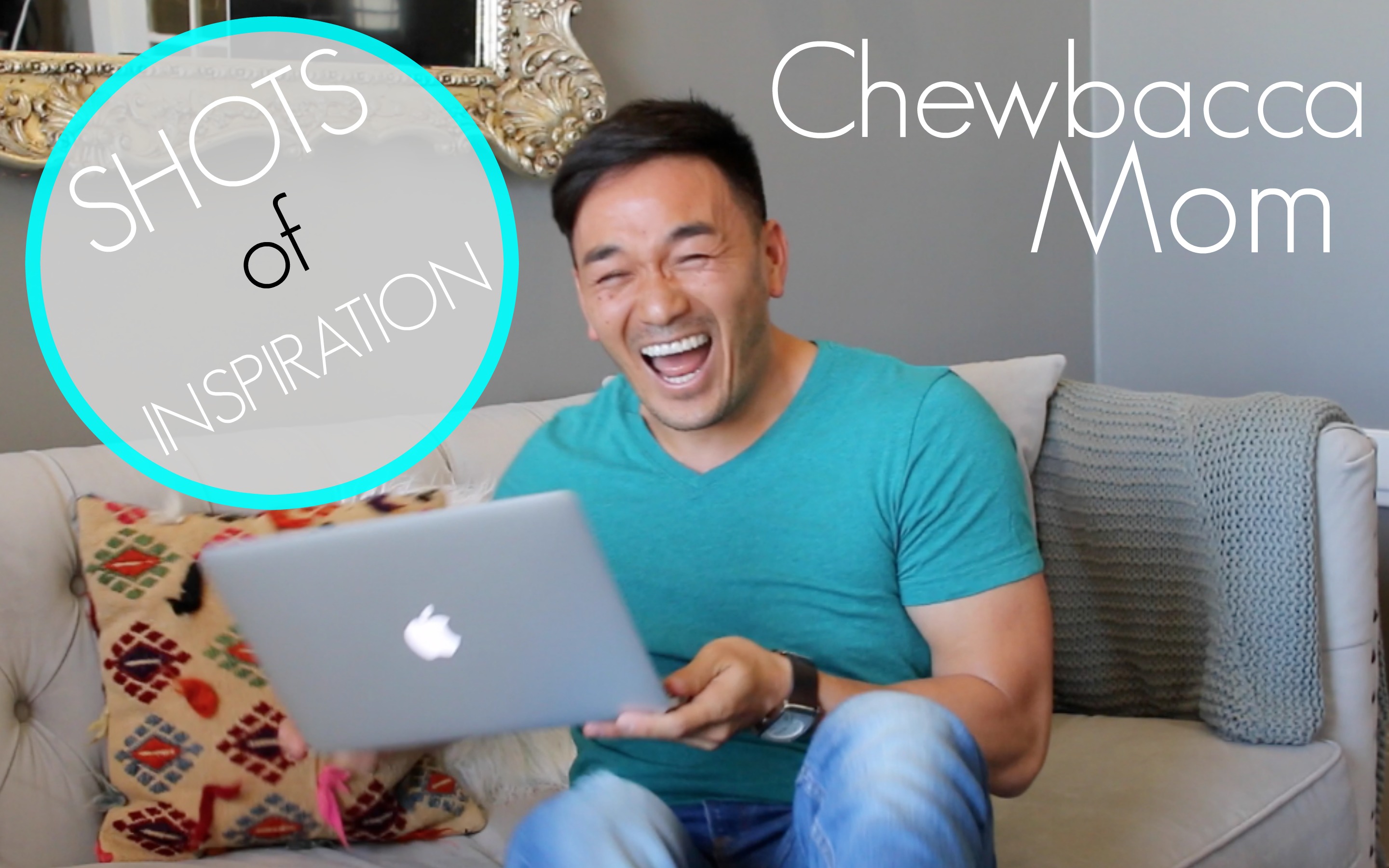 When was the last time you took time out of your busy day to relish in the simple pleasures of life?
After losing four family members in just 13 months early in my career, I decided to focus on being grateful for the small things in life: clean laundry fresh from the dryer, the sun's morning rays beaming through the window, or a text or call from a loved one reminding me that the connection we have with those we love is one of life's most valuable gifts.
This recent video couldn't have come at a better time personally, as I had been dealing with some professional setbacks and the heavy sadness of bad news affecting loved ones and their families. Knowing people dealing with ALS or a friend's sister-in-law who died of cancer, I, and the world it seems, needed to see this.
Who: This week's Shot of Inspiration is dedicated to Chewbacca Mom Candace Payne
In my personal life and as a former TV reporter, I've watched loads of videos. But one getting a lot of attention right now is high on my list of most favorite because of its authenticity, joy and that full-belly laugh.
As you'll see in this week's Shot of Inspiration, this was one of the most fun and funniest I've ever done. Tiffany Russell, the lovely lady filming my SOI, was rolling (both the camera and rollin' with laughter) as I watched the Chewbacca Mom video on my computer and literally LOLing. When I realized Tiffany was recording me, I started talking even though I was laughing hysterically while watching Candace's video again.
Perhaps this sense of pure joy and her inspiring laughter are reasons why people love her so much.
This video, the most-watched Facebook Live of all-time, is a much-needed reminder to savor the simple pleasures in life. If you haven't seen it yet, where have you been? Texas stay-at-home mom Candace Payne has become an Internet sensation after sharing about a Chewbacca mask she bought for her birthday. Her priceless reaction has been viewed more than 145 million times on Facebook.
What:
As a busy mother of two, Candace said she doesn't have much time for herself. One day, before picking up her kids from school, she enjoyed some "me" time at a local Kohl's. While walking through the toy section, she randomly picked up a Chewbacca mask and was inspired to make a video to tell her friends this gift was for her — not her kids — even though she knew her kids would want to claim it as their own.
As she shares the experience of trying on the Chewbacca mask, you can feel her genuine joy. Her laugh, infectious. Her reaction, priceless. I couldn't help but laugh and enjoy the moment with her. The goodness is rippling out in epic proportions. Check out all the love that's trickling down and find out what her newfound fame means to her.
The Ripples:
When you give love, you get love back tenfold. That's the golden rule and also what is reverberating back to Chewbacca Mom. Her energy is as infectious as her laugh.
Among the love coming her way:
Mark Zuckerberg invited Candace to Facebook HQ in California to meet him and the real Chewbacca.
Mark writes: "We invited Candace Payne — whose Chewbacca mask video got 141 million views and is now the most-watched Facebook Live video ever — to come by Facebook HQ today. And we had a fun surprise for her!"
Related: Chewbacca mask video star visits Facebook (USA Today)
She was also featured on NPR and appeared on the Late Late Show with James Corden. Corden surprised her with a meeting with JJ Abrams, director of "Star Wars: The Force Awakens."
So, what does Candice love most about her newfound fame? Grab a tissue — and it's not because of tears of laughter. This joy resonated deeply with many folks who viewed her video.
If you're wondering — Chewbacca masks have quickly sold out at Kohl's stores and other retailers nationwide.
Where: Grand Prairie, Texas
When: May 19, 2016
Why: Simple joys in life are the best!
Thanks for watching. Feel inspired? I want you to think of what YOU can do to find and spread the simple joys in life. Share your thoughts below in our comments section. And if you want more weekly Shots of Inspiration, please subscribe to my YouTube Channel and connect with me on social media.
::Engage::
* Send us inspiring things to feature.
* Twitter – twitter.com/toanlamtv
* Instagram – instagram.com/toanlamtv
* Facebook – facebook.com/toanlamtv
* Subscribe to my YouTube channel, youtube.com/toanlamtv! New Shot of Inspiration every Saturday
In the words of Candace, "It's all Love." Love you guys!
Toan
P.S. Special thanks to Cynthia Wang for inspiring me to do this SOI.